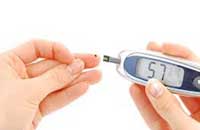 Class details

The following two classes are for you if you are
a patient at Garrison Creek site
diagnosed with type 2 diabetes
1. What is Diabetes?
Basic pathophysiology of diabetes
Risk factors
How diabetes is diagnosed
Signs and symptoms hyperglycemia
Overview of potential complications
Overview of common diabetes medications (e.g. oral pills vs. insulin)
Weight management and physical activity
Intro to healthy eating and plate model
2. Nutrition and Diabetes
Diabetes Food Guide
Macronutrients' impact on blood sugar
Carb vs. non carb foods
Plate model, serving sizes and meal timing
Fibre (Soluble and insoluble)
Glycemic index
Facts on fats, proteins, and sodium
Meal preparation methods
Label reading
Goal setting
---
The following class is for you if you are
a patient at Garrison Creek site
diagnosed with prediabetes
3. What is Prediabetes?
Risk factors
How diabetes and prediabetes are diagnosed
Macronutrients' impact on blood sugar
Carb vs non carb foods
Intro to healthy eating and plate model
Weight management and physical activity
Goal setting


Online registration - select a Class from the list below
Upcoming Classes:
| | | | | | | | |
| --- | --- | --- | --- | --- | --- | --- | --- |
| Fri | 6th Sep 2019 | 10:30am - 12:00pm | Garrison Creek | 2.Nutrition and Diabetes | | | |
| Fri | 11th Oct 2019 | 10:30am - 12:00pm | Garrison Creek | 1.What is Diabetes | | | |
| Fri | 18th Oct 2019 | 10:30am - 12:00pm | Garrison Creek | 3.What is Prediabetes | | | |